Those who have been following my blog articles would have noticed that most of them deal with my take on the world at large. I haven't gotten into my personal life too intently, unless my discussions involve me directly. What follows are more excerpts from my treatise about racism. In this post I will relate to you some personal history that pertains to the racism and homophobia that I have observed and experienced at home as a youth. For my out-of-town travel experiences as a touring entertainer you will need to check out On the Road with Cliff. As usual, I shall include my cynical sarcasm and references to pop culture and movies to illustrate my points of discussion.
My being openly-gay and a person-of-color, at times it's been pointed out to me that I have to endure a "double whammy." If I were a woman and a sapphist, it would be a triple threat then, I guess. People have actually asked me, "Which is more difficult for you, being black in this society or being gay?" I'll bet you know the answer to that without my even telling you. There is no contest. It is definitely, infinitely, and always has been, more difficult to be black than to be gay. Ask any black person, gay or otherwise. I don't mean difficult for me, as I can't help being what I am, which doesn't require any special effort. It's other people that seem to have the problem with black folks.
Some try to simplify the matter and say that being both black and gay have very similar challenges, but I'm here to tell you that there is one big difference. One's homosexuality is usually determined by certain behavior or mere admittance, while one's color is discerned by appearance alone. It is possible for a person to conceal their sexual orientation and modify their behavior, if they choose, to gain social acceptance, and many do apparently, judging from the vast number of closet cases in the world. We know, too, that there are certain Afro-Americans and those of mixed ethnicity whose features and fairer complexions allow them to "pass," if they so desire. But I happen to be one who does not have that privilege. I never have been asked, "What are you?" questioning my ethnic classification. I am obviously a Negro by anyone's observation. It is easier for some people to pass for members of the opposite sex than for me to try to pass for anything other than black. Fortunately, I have no desire to be other than what I am. I have even been identified as such by my voice. But since I am not regarded by most people to be outwardly effeminate, my gayness is not always as readily apparent. In that respect, I could pass for straight if I wanted to. People I meet for the first time don't know for sure if I am gay or not, but they certainly can see what color I am.
Having inherent privileges, white people tend to take so much for granted in life and really don't understand what the rest of us have to go through on a day-to-day basis. Let me give you some examples of what I have to put up with, in my particular case, and I'll let you decide which is more subject to personal assessment from people, my being gay or my being black. White women riding in elevators with me don't cower in the corner because they are frightened of gay men. I don't think that white store clerks either follow me around the store or virtually ignore me altogether when I want some service because I'm a faggot. Doormen in swanky buildings don't stop to question me and regard me with suspicion or either presume me to be a deliveryman because they don't want their residence or office building to become a gay hangout. I am not consistently passed up on the street by cab drivers because they perceive me to be gay. Have I been refused entry into certain gay bars in major cities because I'm gay, for Christ's sake?!
A personal annoyance for me is the frequent suspicious regard I still get from doormen and security guards. It's as if I don't have the same rights as other people to go to certain places without being questioned and scrutinized. Once I was returning from a break to a chorus rehearsal at New York University with a group of the other singers (about 10 of us). As we entered the building where the rehearsal was being held, everybody else walked right past the security guard at the door, and he didn't say a word to any of them, but he had to single me out of the bunch and ask me where I was going. Now I'm with this big group (we're all in one big clump), I am carrying a music folder just like the rest of them, but their being white and my being black, I couldn't possibly be associated with any of them, right? So I must be some ruffian off the street trying to sneak in where I don't belong. Why couldn't I be a singer like the rest of them? For all he knows, I might even be the conductor of the thing and this is my choral group. That's downright prejudice, I'm sorry! Why can't some people imagine me to be what I really am—an intelligent, law-abiding, celebrated, working musician—instead of imagining me to be some disreputable lowlife who's always up to no good, or otherwise some peon or common laborer…not that there's anything wrong with that either?
I was signed with a local casting agency for commercials for a couple of years, and they would regularly send me to auditions. There is a big office building on Broadway where many of the auditions were held, and I had to go there several times. Depending on what the commercial was for, they asked me to dress accordingly. Most of the time I was asked to wear casual street clothes. But when I signed in with the deskman, he invariably would ask me if I was there to make a delivery. I am constantly annoyed by that. Why can't I be a working actor just like everybody else going to the same place? Why do I have to be a delivery person all the time? Or if they see me arrive on my bike, I must be a courier of some sort.
It seems that I am not alone. Once while on Queen Latifah's show, actor/model Tyson Beckford reported that he, too, would arrive at casting calls on his bike and be mistaken for a courier. We don't all travel around the city in a limousine. I don't think there is anything wrong with being a delivery man or messenger, I just resent the presumption. I don't make assumptions about anybody without knowing the facts. The one time I wore a sports jacket and tie to that same location, the guards didn't say anything to me. I guess I must have been respectable that day. People certainly do have dress and appearance prejudice, you know that.
But even that doesn't matter sometimes. My mixed, acappella quartet, Quatraine, was hired to perform at a party one evening at some white woman's apartment on the Upper East Side of Manhattan. The four of us all met there, arriving at different times. When I arrived there alone, the doorman asked for my destination, as he is supposed to do; I don't fault him for that. I had met the woman before, but we were not acquaintances exactly. So I used her last name with Ms. in front of it, out of courtesy and respect, nothing else, and he asked me if I were there to make a delivery! And I was dressed up that night, too, as it was a formal affair. But I guess that doorman just could not accept the fact that this black man could know anybody in his upper-scale building, especially to be invited to a party at the home of one of his white, female tenants, therefore I must be a delivery person! Maybe if I had referred to her by her first name, he might have had a different response, I'm not sure.
Now I don't want to give you the impression that all of these doormen and security guards are white, because all are not. The black ones are just as guilty, like that one at NYU. They play into the same prejudices and stereotypes as their white co-workers, and they should know better, having gone through the same thing themselves at times, I'm sure.
Once passing through the metal detector at the airport, a white, female security officer was instructing all passengers, in general, to remove all metal objects from their pockets—"Loose change, keys, cell phones, jewelry…" but when I got up to the portal, she looked right at me and added, "…switchblades." Now, are all gay men known to carry switchblades onto planes? Maybe she said it as a joke? Well, they make a point to impress on everyone not to joke with the security agents, so I should assume that she was being serious as well. Although I was quite insulted, I didn't say anything that time.
The thing that I resent is constantly being singled out because of people's prejudicial profiling. If these people are "doing their job," they should do it with everybody that they encounter, not just with me or my ilk. I don't object to equal public treatment for all, whatever it happens to be. If they are going to regard black people as potential criminals, they should regard everybody as potential criminals!
It is equally annoying to me and insensitive on their part when people automatically presume that I am heterosexual. They comment on my wife or girlfriend and want to talk sports with me (not that gay people can't be sports enthusiasts, it's just that I am not). "Say, man, how about that game today? Wasn't that something?" 'What game? I don't know what you're talking about, and I don't even care.' I am never asked by a stranger what is being performed at the Metropolitan Opera tonight, or did I happen to catch Chanticleer at Carnegie Hall last weekend. I am black, tall, and "straight-looking," so I must be up on all the basketball and football game results, right? Not! "What? You're a musician?"
Among my baseball cap collection I have one that apparently displays the team logo for the New York Mets on the front. When I wear it, I frequently get the high sign from somebody acknowledging me to be a fellow Mets fan. I always shake my head and say, 'No, I don't have any interest in the Mets or baseball, for that matter.' I just like the cap. It goes with my blue outfits and has a "NY" insignia, that's all. I have been fooled too many times myself to make such presumptions about anybody else.
When I was a contestant on "Who Wants to Be a Millionaire?" with Meredith Vieira in 2003, she vexed me by automatically assuming that I was straight. The production staff of the show get contestants to reveal facts about themselves to give the host something to talk about with us and share with the viewing audience. I told them that I am a confirmed bachelor and enjoy living alone because I don't like anyone around to nag and tell me what to do all the time. But when Meredith imparted this news to the audience, her version was that I didn't want a wife to nag me. She then asked, "Well, all women don't do that, do they, Cliff?" 'Uh, no. I never said that they did.' I didn't mention wives or women at all. I was referring to a roommate or living companion, most likely male. She never did ask me what I do for a living, as they do all of the other contestants that come on the show. She seemed more concerned about my living arrangements and heterosexual romantic attachments. Later she again alluded to my having a wife or some woman in my life. I almost blurted out, but didn't, 'Meredith, will you stop it? I am gay, all right?!'
But why should I even have to tell people that? It's not that I am ashamed for everybody to know, but if I don't volunteer the information myself, don't make your own assumptions about me. Just keep your references non-specific or all-inclusive, as I do. If I don't know somebody's story for sure, I keep their options open. I don't foist a specific gender on anybody. When I do attempt to pry into somebody's business, I might ask them, 'So, do you live with someone, or do you have a significant other?' Their truthful answer gives me some idea if they are gay or not. What I think it really is, unless they are told specifically otherwise, people usually assume that everybody is heterosexual, because that is the "normal" way to be, you see. To assume that someone is gay when they are not would be insulting to the person. "How dare you! I'm not gay!" But that is just the way I feel about it. Automatically to assume that I am straight when I am not is insulting to me. If you don't know for sure, just ask me. I won't be offended. "Cliff, are you a homosexual?" 'Sure, I enjoy having sex at home. But why do you want to know? Are you interested in getting it on with me?'
I am constantly irked by the general public's tendency (wishful thinking on their part, I'm sure) always to presume that everybody is heterosexual. A mother will tell her caring, self-sufficient, sensitive young son that he will make some woman a good husband some day. Well, he might make some man a good husband some day, too! People being interviewed on TV shows, even young children, are often questioned about their dating affairs and romantic interests. Adults will ask little pre-teen boys, "So, Joey, do you have a girlfriend?" Just once I would like someone to reply, "Ugh, no yucky girls, but there is this real cute boy in my class whom I would certainly give it up for!" "She's the type of girl that every guy would go for." Nope. I know many guys, including myself, who have no interest in Miss Thing whatsoever.
A wife discovers that her husband is having an extramarital affair but does not know yet with whom. She confronts him with, "Who is she? Is she young and pretty?" It could just as well be another man that hubby is porking, you know. And I know from personal experience that in many instances, it is! It's not that I think that everybody is gay, but everybody is not straight either. I just don't make assumptions one way or the other and give everyone the benefit of the doubt.
My mother also attended my high school, Central, and she told me that when she was going there (late '30s and early '40s), the black students were not even allowed to participate in school plays and shows, and there was imposed segregation at school dances and other social functions. There was a student hangout directly across from the school called the Morningside Diner, which was still active while I was at Central, but in Mother's day it was off-limits to blacks. Similarly, there was a public indoor swimming pool in my neighborhood, that I frequented quite often growing up, called the Natatorium, and I learned that it also was once off-limits to blacks. After vehement protest in 1937, blacks were allowed to use the facilities (alone, of course), only one day a week. It wasn't until 1950 that the Natatorium became fully integrated.
I had a Caucasian friend who grew up in the neighboring city of Mishawaka, who told me that his Kenyan brother-in-law (his sister's first husband) was once refused service at a South Bend diner. And that was in 1971, mind you! So you see, even in the '30s through the '70s, maybe even later, and although it was the North, racism flourished there just like in the South.
Even my own home state of Indiana has been a center of major Klan activity since the 1920s. Judging from my sometimes "down-home" accent, strangers often peg me to hail from the South. I tell them, 'Yeah, I am from the South all right. "South" Bend!' We naïve kids took so much for granted when we were growing up, thinking that our liberal, prejudice-free environment was what it had always been and how it was everywhere else in the country.
Back when I was in high school, I used to visit my white friend, Donald Girone, at his house in his all-white neighborhood. He would tell me that I had his paranoid neighbors all abuzz with worry and concern about my presence there. Could they actually think that I was casing the place with intent to buy a house on the block? I mean, I'm only a kid. Maybe they were afraid that I was going to bring my gang over later to rob them all. Where do they get these ridiculous notions about us–from the news media, or do they just come up with these fantasies all by themselves? Donald, now deceased, and who didn't have a prejudiced bone in his body, was once walking on a South Bend street with our black friend, Leo, when a car passed by and yelled "nigger lover!" to him. They both were devastated. But things like that don't happen in the north…do they?!
("Are you talkin' to me?!")
This happened during my college years while I was working as a waiter in the Tudor Room restaurant at Indiana University. I was waiting on a group of white people, when one of the men in the party proceeded to summon me over to their table by snapping his fingers repeatedly and invoking, "Hey, boy…boy!" I looked around and thought, Who is he callin' "boy"? I don't see any damned boys in here! I was 21 by this time, hardly a boy. What was wrong with "young man," if anything? I understood his racist connotation. I walked over to the table and as politely as I could muster, said, 'Excuse me, Sir. My name is Cliff, and that's the name I answer to. Look, I don't mind if my mother calls me "Boy," but you're not my mother, are you? So, what is it that I may get for you?' If this happened today, I would give him a snap, after I've read him! Let me tell you about some of the other countless incidents of racism, discrimination, prejudice and stereotyping that I have experienced during just the last 47 years—since I moved to New York from Indiana—that have nothing whatsoever to do with my sexual orientation, then you can help me say.
I have concluded that part of the problem about eradicating racism is that many well-meaning white people are oblivious to when they are actually being racist. They make seemingly-innocent comments all the time without realizing what they are really saying. But now I tend to call them on it when they say something racist. How will they ever learn otherwise? I occasionally come across gay Caucasian men who, shall we say, have a special penchant for men-of-color. They are referred to as "dinge queens." The term itself I could take issue with, because of the original meaning of dinge, but I can accept that it has lost much of its derogatory intent over the years, and there are worse things that they could call us. For instance, I greatly dislike the term "jungle fever." What does that even mean? Someone has a romantic interest in a black person, so they have to search the jungle to find the object of their desire? That is so tacky!
I usually can spot these "DQs" quite easily, by the way they look at me or by certain things they say. I don't dislike or resent these guys and I don't mind the special attention I get from them. I'm sure that their intentions are good—and you know that the Road to Hell is paved with good intentions—but they are also racists just the same. They must think it's flattering to tell me, "Cliff, I just love black guys!" It's as if they are trying to tell me that they are not like other white people. You see, they really do like blacks, which makes them special. So are they telling me that if I were not black, they wouldn't have any interest in me at all? What am I supposed to do with that declaration?
For those who also have sex with their own kind, I'll bet they never say to them, "I just love white guys!" I would never say that to anybody, even if that were the case. One guy wanted to tell me that one night and asked me what term should he use, you know, what was P.C. at the moment? I told him that whatever word he used would be racist. 'Why can't you just say that I am your particular type, or that you like the way I look?' Should I be pleased and flattered when someone regards my color as the primary reason for their attention and interest of me, instead of how I am as a person? This is another kind of prejudice. For all they know, I could be the most despicable scumbag they have ever encountered, but they see that I'm black, and it's "Hubba-hubba, come to Papa!"
Some are probably even serious when they ask me, "Is it true what they say about black men?" Feigning ignorance, I ask, 'Is what true, and what do "they" say?' "You know." For those of you who may not know what I'm talking about, there seems to be an unwarranted rumor going around that all black men are well-endowed and are fantastic lovemakers. Wait, there is no need to euphemize here. We all have big dicks and know how to use them, okay?! I might say then, 'So let me ask you something. Is it true what they say about white guys? You know.' That makes about as much sense, doesn't it? Sometimes I will meet a "first-timer" who will forego the question initially, but after proceeding to have sex, will actually say to me, "It's true! It's true!" Either they are quoting Madeline Kahn in Blazing Saddles (1974), they just don't care, or they don't realize that they are perpetuating a stereotype, based on a myth that white people themselves started, by the way, since no black person I have known has ever made the claim that racially speaking, our dicks are bigger than anyone else's.
As I consider myself an authority on comparative penises, I can tell you for certain that I have encountered as many exceptionally-large cocks on Caucasian men as I have tiny pee-pees on men-of-color. So one's race or nationality has nothing to do with penile size. It's completely individual, just like every other corporal feature. The stereotype probably started when a few white persons encountered a black dick that just happened to be larger than their own, so they just assumed that every black man has a big one.
In The Full Monty (1997) the lead characters (white) are interviewing men to be part of their little stripping ensemble, when a black guy comes in to audition. They readily accept him, automatically assuming that he is well-endowed, as all of us are, you know. But in anticipation of that presumption, the guy lets them know right away that he is not "all that" down there, if that was what they were thinking. It later turns out that, surprisingly for them, it's a young, white guy who is the most-hung one of the group.
Another ridiculous stereotype which is still with us today is the notion that black people have an over-fondness, maybe an obsession even, for watermelon. It's probably true that during slavery times and even after, the field hands working in the hot sun for hours on end ate a lot of watermelon to help cool them down and keep themselves hydrated. Fresh water was not always accessible or available, but the melons which grew abundantly nearby were more readily at their disposal. That's understandable, considering the circumstances. But the thing is, a stereotype occurs only by the deliberate intent of someone to make it so. It was white man's concerted campaign to perpetuate the watermelon mystique by creating limitless pictorial images of caricatured blacks delighting in eating watermelon. They appeared on postcards, posters, in cartoons, art items, everywhere. It wasn't we blacks who were making this paraphernalia. Why would we do such a thing?
So, as it is with all media, people tend to believe what they are told. If it's in print, then it must be true. For myself, I have never purchased a watermelon for consumption in my life. I have eaten it a few times, when it was being served by others, whites exclusively, I might add, but I don't love it as much as I am supposed to, according to legend. The love of watermelon seems to be more a white person's thing than it is ours. There was a guy on one season of "Big Brother," who was a watermelon fanatic. He just couldn't get enough!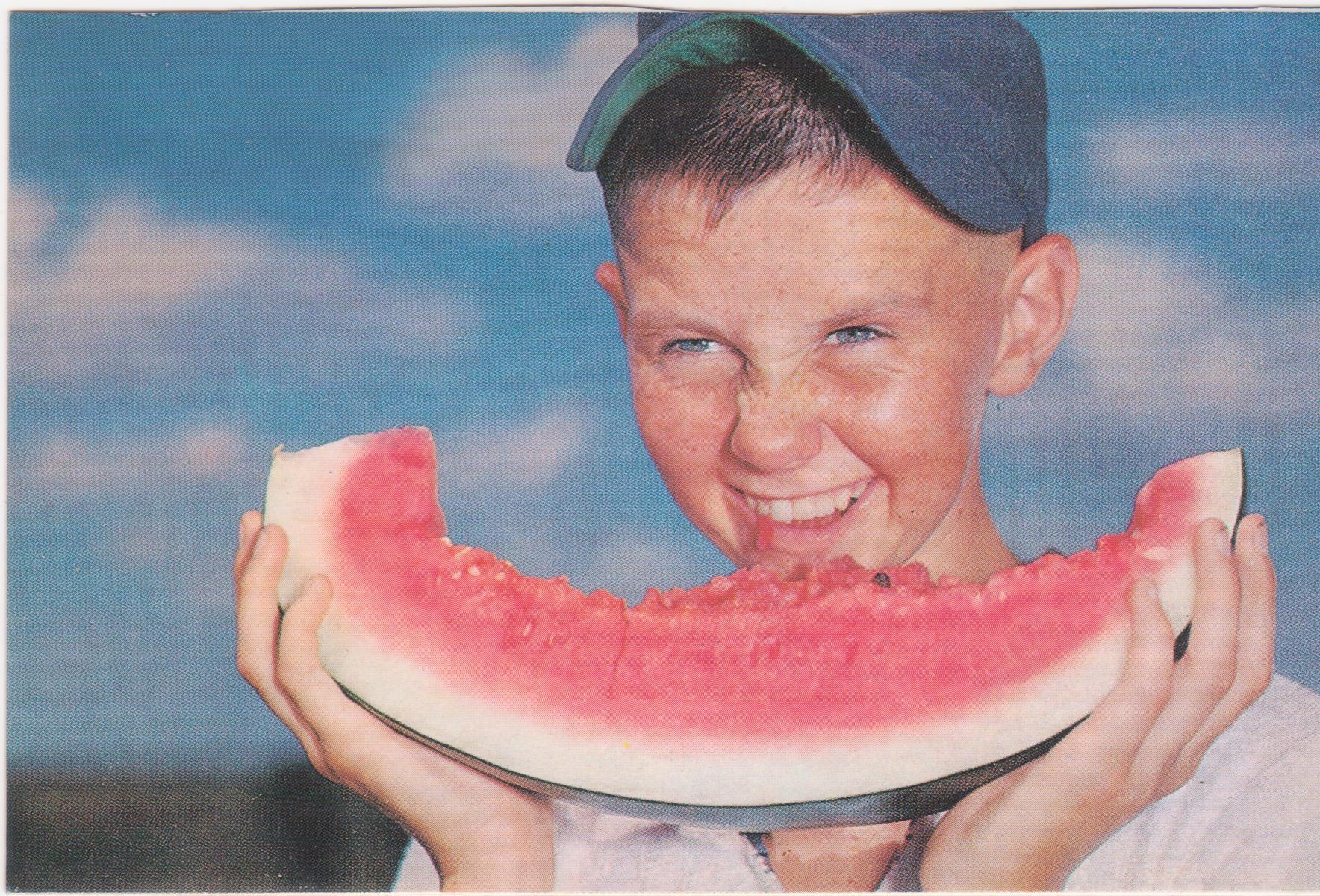 You whites have even bestowed the critical trait of lack of punctuality on us blacks. Persons who tend to be late for engagements are accused of operating on "C.P.T." or "Colored-People's Time." I don't like to arrive late to places and I make a real effort always to be on time. Most of my black fellow colleagues are the same way. On the other hand, I know more than a few white co-workers who are never on time and just come dragging in when they feel like it.
White, married men on TV, the movies and standup comedy routines are forever criticizing their wives for making them wait longer than necessary to go out somewhere. I have seen numerous scenes where the white characters arrive at a public gathering–concerts, theater, their own children's school events, even church services, weddings and funerals–after they have already begun. And they don't seem to care.
I have heard of or experienced celebrity entertainers who have been known to keep their audiences waiting indefinitely for them to show up for performances. A dresser at the Met once told me that Rudolf Nureyev arrived more than a half-hour after curtain time one night, because he was somewhere having sex, and then brought the young trick to the theater with him! While Rudy was getting dressed, the number asked Bob, "So, is he some kind of dancer or something?" Well, duh! Judy Garland, Marilyn Monroe and even Frank Sinatra used to arrive late to their movie sets on a regular basis. Justin Bieber now has a reputation of exhibiting disrespectful tardiness at his shows.
While in Tel Aviv with the Collegiate Chorale and Israel Philharmonic, Zubin Mehta (who is not exactly white, but exhibiting unprofessional behavior just the same) arrived 45 minutes late one night to the concert that he was conducting. We're all sitting there on stage, orchestra and chorus, and no conductor! Someone from the orchestra informed us, "Oh, he does this all the time." When he did get there, he gave us no excuse or apology for being late. It was just, "Well, I'm here. We can start now."
So if the black choristers at the rehearsal I'm at are always on time, but it's the white folks who are the chronic tardies, why is it still being referred to as C.P.T.? How did we get that dubious distinction? It's really "W.P.T., White-People's Time," isn't it? They even try to justify it in their favor. When it's us, we're on C.P.T., but when it's they, they are only "fashionably late" or they want to "make an entrance." Oh, that's so much better then. You see, they always want to assign the negative traits to People-of-Color, even when it's most of them who are guilty of the very thing they're criticizing.
There are other unintentional (or maybe not) racist comments that some whites have made to me and others. There's the very insulting, "You know, Cliff, you don't act black." I don't? Maybe it's because I don't have to act. I am black. Just because I don't epitomize the common stereotypes that some whites have about black people, I'm not behaving the way they expect me to? You know what I'm saying? I don't act white either, for that matter. I'm just being myself, whatever that is. The same thing is done to gay people. We have to look and behave a certain way for some people to realize that we're really gay. The reason my father gave that he never suspected that I was gay until I told him, was, as he put it, "Well, you don't wear lipstick and high heels, so how would I know that you were 'that way'?" Do you believe that? I felt like retorting but didn't, 'Well, Dad, you don't drive a semi truck and operate power tools, so how would I know that you are straight?' Terms like "straight-acting" and "discreet" are merely synonyms for closeted. If a gay man dates women and does not mince and lisp, he's acting straight. Or if gay couples do not show public displays of affection, they are being discreet.
When I was cast to portray Haman in a show about the Biblical character Esther and the origin of the Jewish holiday Purim, the white director inquired if I could do an accent of some kind. I told her, 'Yes, I believe I can.' Then she actually said to me, "I don't want you to sound black, though." The alternative being that I should try to sound what, "white"? I didn't know how to respond to that. My vocal sound is whatever it is. I don't try to sound a certain color. I don't even know what that is. I don't think that person was even aware of how insultingly racist her comment was, or maybe she was. Even if there is such a way to sound "black," what is Ms. Thing's objection? Since the voice I was doing was for a Biblical character who nobody has ever seen or heard speak, what difference should it make how I sound? I'm sure that nobody in the audience complained, "Gee, he sure doesn't sound like Haman!" 'And you know this because…?' It's my character, who will sound the way that I, as an actor, want him to sound! Charlton Heston didn't sound "Jewish" when he portrayed Moses and Judah Ben-Hur. I should have read the bitch, but I let her insult go.
After a New York Vagabonds gig in Coral Springs, Florida, during my first year with them, my colleague, Joshua, and I were greeting members of the audience when an old, white man told Josh that with his voice he should be singing opera. Then he looked at me and said, "You should be singing 'Ol' Man River.'" He probably thought he was being complimentary (or maybe not), but by the way he compared the two of us, I took it as quite an insult. Why didn't that man consider it another way? Why shouldn't I be the one singing opera? In fact, I am the opera singer, not Josh! And I do sing "Ol' Man River" incidentally, but it's not the only thing that I sing.
I also let it slide another time when the Vagabonds were in Florida, and a white woman came over to meet us before our show, looked at me and exclaimed, "Well, aren't you a raisin in the sun!" We all looked at each other quizzically, but nobody said a word. We didn't know quite what she meant, but it sure sounds suspiciously racist to me, and due to the fact that she was addressing only me. I should have replied but didn't, "Well, aren't you a fucking, racist bitch!"
Harry Belafonte tells in his memoirs about the time he was playing a Las Vegas club casino and a southern white woman came up to him and gushed, "I have to tell you, Mr. Belafonte, having met you and heard you sing tonight, you've made me look at coons in a whole new way." 'Well, thank you and fuck you, my dear!' I would have told her. Have they no shame?
Then there is the possibly well-meaning white person who probably thinks that they are paying me a compliment when they say to me, "You know, Cliff, I don't think of you as black. I don't even notice that you are, most of the time." (Come on, how do you not notice?) And, "You are probably the whitest black person I know." Is it because I don't act "black," whatever they think that is? Or, I've heard folks say, "I don't see color in people." Oh, no? Then why, in describing individuals in a mixed group, these same white people will designate other whites as "that blond, blue-eyed number" or "the brunette" or "the redhead" or "the man in the gray, flannel suit." But with us, it's "the black dude" or "the pretty, black woman." If skin color is not a noticeable factor, then why don't they describe us by our hair color or by what we are wearing? If I am the only person in a group of five wearing a leather cap, why must I be identified as "the black guy there with the leather cap"? They apparently see my color first, then they notice what I'm wearing. I don't expect you not to notice my color, you just don't have to make an issue about it. I have other distinguishing features about me, too, you know.
In all fairness, though, I suppose that if a particular group was mostly black, except for one white guy, he probably would be identified as "the white dude," although I have not witnessed it myself. It's very rare to find a single white person among a sea of blacks, but in my own experience, the opposite is much more prevalent. On many occasions I have been the only "one" in a crowd of white people. But it does point out that the minority color seems to be a deciding factor in personal identification. If one is making a visual reference to someone in each other's presence, they can see for themselves what color the person is. You don't have to point it out to them. When the person I am talking about is not present, I will mention their race or nationality only when it is relevant to the story I am telling, as I have been doing in this writing. If it is not, then I won't.
How about when someone says, "I regard everybody exactly the same. I don't care if they're black, white or green with purple polka dots." What a lie! You know damned well that they would have some negative opinion about somebody who was actually green with purple polka dots! Who wouldn't? How could you overlook an abnormality like that? I don't think that any sighted person is that non-prejudiced. I suppose the point they are trying to make is that one's color does not matter to them. Well, if that's true, it's a commendable attitude, and I thank them.
There is a porno magazine publication (one of many, of course) called simply Men. But as I look through any given issue, all I ever see are white men from cover to cover. So why don't they call the magazine White Men? And young white men at that! All the ones that feature black models commonly have the word black in the title—like Black Male, and Black Inches. This convention carries over to videos, too, so that the consumer may be aware of what kind of sex film he will be viewing. So, I guess the rule of thumb in life is that any persons generally referred to verbally or in literature, we are to presume that they are Caucasian, unless specified otherwise. White people apparently need no special designation like everyone else. Implicitly, they just are. Why the double standard? That's a not-so-subtle indication right there that white supremacy is a primary guiding force of our world.
On a personal note and to illustrate the point further, in a 1990 newspaper review for the Flirtations' first record album, the reviewer mentioned all the members of the group with a descriptive phrase. Jon Arterton was "one sexy, bald, academic type," Michael Callen was "one Streisand PWA (person-with-AIDS)," Aurelio Font was "one Latino flirt," TJ Myers was "one all-American boy," and yours truly was "one black hunk." See what I mean? Now I don't mind being called a hunk, but it doesn't need to be qualified with a color. Aurelio's being Puerto Rican doesn't make him more of a flirt. And I'm just as sexy and academic as Jon, if not more so. But the one that really gets me is the young, rather cute, white member being referred to as the "one all-American boy." What are the rest of us, chopped liver?! The last time I checked, we all were "all-American." I guess what I object to is taking a generalized phrase such as that and arbitrarily applying it to a specific type or image, in this case, clean-cut and Caucasian. And if this guy is going to describe Aurelio and me ethnically, why didn't he refer to Jon, Michael and TJ as "B-flat white boys," for example?
It's like another proverbial image used all the time—"the boy (or girl) next door." Who the hell is that? Doesn't that depend on what neighborhood you are in and who actually lives next door? When I was growing up, my brother and I were the boys next door, since the house on one side of us was inhabited by an old widow lady who lived alone and the other side had a childless couple living in it. If anybody is an "all-American boy-next-door," it's me. I can't get much more American than I am, being Afro-American and probably part American Indian as well. But when that expression is used, I am not the first image that comes to mind for most people, am I? So when someone asks, "Which one is Cliff?" instead of saying, "the black one," how about, "He's the guy singing bass" or "that good-looking, humpy number on the far left"?
When my acappella quartet, Steamboat Gothic, received a write-up in New York magazine in 1980, there was one flaw in an otherwise wonderful tribute. One passage reads like this, "…What they like to do most, though, is harmonize on jaunty barbershop numbers like 'Coney Island Baby,' drinking songs like 'Vive L'Amour,' black spirituals like 'Deep River' (two of the group are black), and the traditional stuff everybody loves." So what's wrong with that, you may ask? Well, why did that reporter think that it was so important to mention that two of us were black? Is that why we sing "black" spirituals? Whose benefit was it for and what is their point exactly? If we are as fabulous as they say we are, then the group's color membership should not matter to anybody. But even if they want to give you a racial breakdown, since the group was originally all-black, founded by myself and my black friend, Leo, and two of the guys were later replaced by white boys, it would have been more appropriate to say that "two of the group are white." Having not interviewed us beforehand, it wouldn't occur to them that such a group would be started and managed by the black members instead of the white ones.
You see, it goes to point of view, like whether the glass is half-full or half-empty. The reviewer must be presuming from our repertoire (what, black folks singing barbershop and madrigals?!) that without seeing us, people would assume that we must be all-white. And for Leo and me to be singing that "white folks' music" (I mean, acappella is a white thing, isn't it?) must have seemed out-of-the-ordinary to that journalist. But then, if the white boys are singing spirituals and R&B, which is traditionally "our" music, it still makes more sense to say that two of us are white. Okay, maybe it was a seemingly harmless remark, but my point in all of this is that it is racist to mention a person's color unnecessarily, especially when a white person does it. If they did it for everybody, including their own people, then I wouldn't consider it such a big deal. Again, it's the biased singling out that I object to.
An incident of "Walking-While-Black" happened to Harry Belafonte years ago (it was 1952) when he was in Beverly Hills, California as actor Farley Granger's houseguest. One evening after dinner Harry decided to take a walk alone around the neighborhood. Within minutes, a police car drove up and asked Harry, "Why are you out here walking, Boy?" When he told them that he was there making a movie for MGM, of course they didn't believe him and took him in for "illegal loitering." They wouldn't even allow him to make a phone call, and it was hours before Farley, when he realized that Harry was missing, tracked him down at the police station, and then it took the MGM studio lawyers to get him released.
How about merely "Standing-While-Black"? Jazz trumpeter Miles Davis was playing at a club in Manhattan during the '60s, when he had just escorted a white woman to a cab and was standing just outside the club smoking a cigarette before going back inside. A white policeman approached Miles and told him to move along. Miles did not understand the request and attempted to tell this cop who he was. He even pointed to his name in huge letters on the front of the place. "That's me!" he said. The cop said, "I don't care who you say you are. Just get a move on!" Miles just looked at him and did not move. All of a sudden, he felt himself being hit on the head with a billy club from another cop who had sneaked up behind him. By this time Miles Davis had acquired worldwide fame and popularity. But that didn't matter one bit to those racial bigots. So you see, they don't care who you are, as long as you are the wrong color or are found where you they think you are not supposed to be. But this is Hollywood and New York City. There is no racial prejudice in those cities, are there?
Oprah Winfrey did a show once about reformed criminals, who were there to share the tricks of their former trade with the viewing and studio audience. One woman (young and attractive) boasted about how she used to burgle the ritzy neighborhoods of her hometown. In broad daylight she would go into houses when the occupants would be away and rob them blind! The neighbors would watch her come and go, but nobody suspected anything because she was white, and everybody knows, of course, that attractive, young white women just don't commit burglary, right? They all assumed that the Radcliffes knew this woman and that she was just borrowing, with their permission, that TV, stereo equipment, set of silverware and all that jewelry that she walked out of the house with. I was only passing along a public street that night in Greenwich (see On the Road With Cliff for details), and they called the cops on my ass! Check out the movie Amos & Andrew (1993) sometime, if you haven't already, for a comic depiction in absurd paranoia, although it's not all that funny to me, as I have gone it through it myself.
On another "Oprah" episode about people who lead secret lives, it was reported that about one of every ten persons in America is a compulsive shoplifter. Several of these kleptos came on the show to tell their stories. One man revealed that he had stolen over a thousand items over many years. People walk out of stores with large items, like furniture and appliances, that they didn't pay for. How is that even possible? I think the fact that all of these thieves are white (at least the ones featured on the show) is quite revealing in itself. It shows how white people can get away with anything. I am scared to death to shoplift and wouldn't dare attempt it, but I am the one that they watch and follow around the store when I'm shopping. I'll bet I wouldn't be able to walk out of Staples with that file cabinet that I didn't pay for. The wrong people are being scrutinized, it would seem.
The TV show "What Would You Do?" reenacts in every episode discussion-worthy social scenarios to demonstrate common people's responses and how they handle certain issues. They use hidden cameras and hire actors to set up the controversial situations. One revealing segment had a white teenager trying to steal a bicycle in a public park. He had tools with him for cutting and sawing the lock and chain from the post the bike was attached to. Although passersby were aware of what was going down–the boy even admitted that it wasn't his bike–in most cases, they just walked on by and nobody reported him or tried to stop him. So then they tried the same stunt with a pretty, blond white girl. She had guys actually helping her to steal the bike! "Do you need a hand with that?" They took the metal cutter and snipped the chain off for her.
But then they tried the same experiment with a black youth, who was the same age and was dressed similarly as the other boy. This time, not only was this boy not ignored by the people who saw him trying to take the bike, he drew a whole crowd of concerned citizens who tried to stop him. They chastised him, and people were on their cell phones calling the police to come to intervene. See the double standard? But these same people will tell you that the boy's being black had nothing to do with their reaction. Oh, really? They weren't so quick to rat on the white kid earlier. Nobody seemed to mind aiding the white kids to commit a crime, but they would not tolerate it with the black guy. Oh, no, it's not a racial thing at all.
Another scenario involved a lone, black man in a restaurant asking nearby diners to watch his laptop while he goes outside to make a phone call. As soon as he leaves, a young white woman comes in, takes the computer and leaves with it. When the patrons who are supposed to be guarding the man's property speaks to the thief, she tells them, "My friend asked me to get his computer and bring it to him." "Oh, okay, then." And they just let her go. When the host, John Quiñones, asks them why they let her steal the laptop, they said, "She looked legitimate. How could I know that she was lying?"
So then they turned things around, with the two actors changing places. The white girl is now the innocent victim, and the black guy is now the thief. When she leaves and the man picks up the laptop, almost everybody in the place jumps up and tries to stop him. They don't even wait for an explanation. I guess he doesn't look "legitimate," as the girl apparently did. It is no surprise to me that white people can get away with virtually any behavior more readily that a black person can. Their being white must give them automatic, unspoken trust which allows them to get away with stuff. They never do anything wrong, whereas blacks are always up to no good.
One of my favorite TV series is "Boston Legal" (still airing in syndication). They did a great opening sequence one episode, which involves profiling. Two suspicious, formidable-looking, hoody-wearing, Hispanic youths enter a convenience store, which puts the manager on his guard. He pushes his police alert button behind the counter, fearing that he is about to be held up. The boys select a bag of potato chips and some other snacks, and one of them reaches into his jacket pocket to get out his…gun? No, it's a couple of dollar bills with which he pays for their purchases, then they turn and leave the store. Right behind them is the recurring character of Katherine Piper, played by none other than Betty White. Seeing this elderly white woman causes the manager to relax and even turn his back on her. When he turns back around to serve her, he finds her holding a loaded pistol on him and asking him to empty out his cash register and hand over the cash to her. So the Latino, perceived-to-be thugs were completely innocent of any wrongdoing, and it was the unsuspected, little old white lady who turned out to be the real armed robber. Series writer David E. Kelley's scripts often challenged stereotypes and provoked controversy.
I have an old friend who still lives in South Bend and is very fair-skinned. Those who don't know him would take him for a white man. John Charles does not intentionally pass, people just make that assumption. He has told me that he overhears the nastiest comments about black folks all the time while in their presence, because they just assume that he is one of them, therefore will not be offended. It's the same thing that homophobes do with gays. These Yankee bigots will make disparaging comments about blacks and other ethnic groups when none are present, things they would not dare say to their face for fear of recrimination. More often than not, your Southern bigots don't care who's listening when they say something tacky. By the way, what do you get if you cross a certain American Indian with a black man? A Sioux named "Boy."
I find it inexcusable that gay people, especially, can dare to be bigots and racists as well. But you must know that people are often guilty of the same things that they accuse others of being. There used to be a gay dance club (I've forgotten the name) on East 14th Street in Manhattan. Now I'm not into the disco scene at all, but this particular night, I only went there with my friend, Brooks (who is white), to help him celebrate his birthday. When we got there, there was a short line outside waiting to get in and a white guy, who works for the place, monitoring the crowd to decide who to let inside.
All the white boys in line had no trouble getting in, no questions asked. But when I got up to the door, this guy asked me for specific I.D., like a driver's license, which I do not have. So when I failed to produce same, he told me that I could not enter. I'm sure that if I had had a driver's license, he would have come up with some other stumbling block to deny my entrance. I did not make a scene, I just turned and left. Now did that guy think that I was so stupid that I wouldn't know what was going on, or he just didn't care what I thought?
This is the difference between the North and the South. In Jasper, Alabama, they would have told me right to my face, "I'm sorry, Boy, but we don't allow no nigras in this establishment." You know, polite, but honest and to the point. In New York, they have to make up some lame excuse so as not to admit to their outright bigotry. That's why I like Archie Bunker, although he's not from the South. People like that I can deal with because I know where they're coming from. Tell me how you really feel about something, and we can discuss it openly. It's the Northern racists that I distrust more. They will either condescend and patronize or otherwise try so hard to remain P.C. so as not to offend you, but in private or with their own kind or when they think you're not listening, only then will they express their true feelings. They are two-faced and hypocritical. When does that "nice, black gentleman" become a nigger? As soon as he leaves the room!
Brooks, out of embarrassment and outrage, would not go in either then, although the doorman had not forbade him from entering. We decided to go someplace else instead. Since I wasn't so keen about that place anyway, it didn't bother me as much as it did Brooks, but it was just the principle of the thing that irritated me. What if I had wanted to go inside?
When Harry Belafonte was in the Navy and on leave in New York, he was refused entry to the Copacabana nightclub by a bigoted doorman, even though he was in uniform. Only ten years later–and by then he probably could have bought the place–he was the headliner act in the same club and wanted so much to confront that doorman, but he was no longer there, darn it! Harry had a few words for that guy.
Do you think that times have changed? Not enough, in my opinion. Oprah Winfrey publicized an incident that happened to her right here in Manhattan a while long ago, when she tried to go shopping at Saks and Company. (Or was it Tiffany's? I forget which; it was one of those highfalutin emporiums on 5th Avenue.) She wanted to pick up some quick gifts for some local friends. She reports that when she got to the front door of the store, somebody inside locked it so that she could not enter. She walked away but then phoned the store to find out if they were open. "Why, of course, we are!" was the reply. So she went back and they again forbade her to enter. She didn't understand at first what was going on, until she again walked away from the store and then observed some white people being let into the store with no trouble at all. Ah! She's got it now!
The store personnel apparently did not recognize her (Oprah spent most of her time in Chicago, after all) and regarded her as merely some black vagrant from the street who was there probably to shoplift. They must assume that no black person can possibly afford to buy anything at their high-priced boutique, therefore, she must be a browsing thief, right? Little did they know, or even cared, that this woman was able to buy the entire store if she wanted to! Needless to say, those people lost a major sale that day, and Oprah has sworn that she will forever boycott the store and has encouraged all her rich friends not to shop there either.
Academy Award-winning actor Jamie Foxx grew up in Terrell, Texas (a suburb of Dallas), a town of 12,000 people, mostly white, I'm sure, and where the local daily newspaper there is only 12 pages. His being the most famous person ever to have come out of that town, it took his winning a Golden Globe in 2004 for Ray, finally to be mentioned in their paper. So again, they don't care who you are or how much fame and fortune you have. If you're black, stay back!
Even up to a few years ago, I was subject to discriminatory scrutiny at certain gay bars right here in Manhattan. There was a bar in Chelsea that I used to frequent on a regular basis, that, I suppose due to its popularity and crowdedness, attracted pickpockets. While unaware patrons were engaged in basic making-out or just general socializing, there were thieves who milled through the crowd lifting wallets and then would flee with the goods before they were discovered. After being ripped off myself several times, I learned many years ago always to hide my wallet when I am among crowds, or just don't bring one with me at all if I know that's where I'm going. You see, I don't go there to drink anyway.
But even with the posted signs and verbal warnings about keeping an eye on their wallets, some of these guys never learn to take the proper precautions, and they continue to get robbed. It apparently got so bad at the bar, that the management started a sort of screening process to attempt to weed out the imagined, potential thieves. This was done by making everyone enter through the same single door where a doorman was posted to scrutinize all who enter. But the trouble with that was, it created gross prejudice on the part of the doorman, because he had to determine who the dishonest guys are, based on their appearance alone, which is impossible to do.
I was not at this bar all the time, mind you, but I considered myself a regular, and I knew many of the other regulars, including one of the bouncers and the owner himself, who, ironically, was a black man. On more than one occasion I would arrive at the bar and be asked by the incumbent white doorman to produce a piece of identification for his perusal. On this one particular night I didn't bring my wallet with me. But even if I did have some I.D., what did he need to see it for? He didn't need to check my age; I'm obviously old enough to be there. If he wants to know who I am, I can just tell him. An I.D. doesn't prove anything, as people use fake ones all the time. And they don't reveal anything about a person's character anyway.
So then he said to me, "I don't know you." I told him that I didn't know him either. What's your point? This is a public New York City establishment. How do you expect and why do you have to know every single person who comes through here? I could be from out-of-town. And suppose that the alleged thieves are guys that he actually knows already? "Well, we've been having some trouble here," he proffered. 'What does that mean, and what does that have to do with me? Are you accusing me of something?' So out of intimidation, I suppose, he finally let me into the bar. I then noticed that this same doorman is not stopping any of the men entering the bar right behind me, who all just happened to be white. So I can only assume that it must be a racial profiling thing, or maybe he "knows" all of them. Why do they always single me out to give the third degree to? While they are harassing innocent me, they may be letting in the very ones whom they should be keeping out!
My suspicions were confirmed when, one night, I eventually reported my plight to my friend Joseph, who worked at the bar as a sort of bouncer/security guard. He confided to me that the reason those guys do what they do is because whenever a perpetrator actually had been apprehended, more times than not, he was a man-of-color. Aha! So it is a racial thing! They must be under the impression that any and every black man that comes to the bar, that they "don't know" personally, must be a potential thief. You know that we all know one another and all run around in a gang. At least Joseph, who is white, understood, I think, how I might be insulted by that presumption. Again, it's making us all suffer for the sins of only a few. And of course, those doormen, despite my goading, are never honest and up front with me. Just come right out and tell me, "I have been instructed to regard every Afro-American who comes to this bar with suspicion and distrust. Please don't take it personally. We regard all of you people in this way." Just tell me that right out and we can have a discussion about it.
It's the double standard that I deplore. Percentage-wise, white people commit much more crime than anybody else, including theft (remember my earlier shoplifting statistic), but they manage always to maintain their status as law-abiding innocents. For instance, most of the serial killers and rapists throughout history have been white males. So why aren't all white men regarded with dread and suspicion? They certainly would be if the majority of these killers and rapists were black. (They are anyway, in fact.) If I am automatically presumed to be a thief, because they think that most thieves are black, then why isn't it automatically presumed that that white man there is a serial killer? The fact is, no matter what a white person does, the general attitude is, "Oh, well, no big deal. We're not all like that." But a few nonwhites doing the same thing, then we are all like that. It's so unfair.
Are you aware that the prevailing practice of racial profiling is always directed toward non-Caucasians? WASPs are never profiled in the same way afforded other ethnic groups. White people can do anything they want to, go anywhere they please, and nobody gives a second thought about their political views or possible criminal intent. There is a book out called Flying While Black, which relates how security officers at airports are now in the habit of singling out black women plane passengers to give extensive and intrusive body searches to, ostensibly looking for contraband, and which they seldom find in the travelers' possession. White people, however, are not stopped and searched nearly as often, and they are most likely the ones doing the smuggling! Now can you understand why I am constantly offended by the biased prejudice displayed in our society? And you see that it never ends.
Now since the "9/11" attacks, for instance, all persons of Islamic belief and those from the middle eastern countries, even if they are American citizens, are subject to profiling, discrimination, harassment and persecution from the general and corporate public. There are multi-millions of Moslems worldwide. They all, if hardly any, can't be guilty of terrorism. Again, a whole group of people are made to take the blame for the actions of only a few. Why must a simple thing like common respect forever be this ongoing quest? If you read my article entitled, Conspiracy Theory, Pt. III: 9/11, you will learn that I have strong doubts that these people are guilty at all, which makes it even more unfair.
The poor American Japanese people, too, certainly suffered a raw deal during World War II, at the hands of bigoted, paranoid, white folks in this country. When the Japanese attacked Pearl Harbor in 1941, it sent much of White America into a panic. Innocent, upstanding, law-abiding, Japanese-American citizens by the thousands were arrested, driven from their homes and relegated to concentration camps, where they remained for the duration of the War. Actor George Takei was a child when he and his parents were victims of this senseless injustice. The white man's irrational fear was that every person of Japanese descent would choose sides by renouncing their American citizenship and joining the enemy against us, even though most of them had been living here for several generations and were as American as anyone else. Isn't that absurd? You know, it's any excuse they can find to perpetuate their unfair prejudice against nonwhites. They were classified by the Government as "enemy non-aliens." But if they were non-aliens, that would make them citizens, right?
At the same time we were enemies with the Germans and Italians, too, and I learned that they, too, were subject to suspicious persecution. As it turned out, though, it was discovered that there actually were stateside Nazi organizations in operation, as well as secret gangs of Italians and Japanese who were advocating for the other side. It's just that all gathered-up prisoners were not guilty of any treason, only some. At least our POWs weren't all killed, like they did the European Jews. I suppose that the difference was, the Japanese-Americans were a rather docile people who kept a low profile and many of them worked in a servile capacity, so they were no real political threat. Whereas Jews, being white in appearance, owned property, ran their own businesses and had a considerable amount of economic power, therefore more of a social threat, so they had to be eliminated entirely, I suppose.
Of course, later on even the Japanese people's benignancy didn't matter when our Government chose to drop two atomic bombs on their former homeland. "That'll teach 'em to fuck with us!" So, fifty years later, instead of retaliating with more aggressive warfare, Japan has taken the peaceful approach of attacking our pocketbooks, by buying up the United States bit by bit via our top businesses and corporations. And of course, we are playing right into their hands! So now, who is fucking over whom? And now, too, we seem to be practicing mutual forgiveness on both our parts. Japan is quite open to and greatly welcomes American tourism and vice versa. And just recently with the casualties caused by the devastating earthquake and tsunami on their island, we Americans have been very generous with financial aid and sympathetic support, when only 70 years ago most didn't bat an eye when the country was destroyed by atomic bomb. A little guilty retribution, perhaps?
It seems that they can find any excuse to justify their hatred toward certain people. Since the current COVID pandemic, which we were told originated in China, there has been a rise in this country of criminal aggression against Asian-Americans. They don't have to be specifically Chinese either, to be subject to attack and persecution. One Asian person is the same as any other, apparently.
I will sum up by saying that I certainly don't mean to give the impression that I am down on all white people. I don't hate anybody. Because of the line of work I'm in, I owe a major part of my career and job opportunities to the generosities of white people, and I am eternally grateful to them. I am merely relating just my own personal experiences. You can talk to any other person-of-color and get similar and different accounts of their own experiences being black. My intent with this writing is to raise awareness of the racial situation in this country. Maybe now you will stop to think before you say or do certain things.
[Related articles: Black History, Pts. 1-5; Color issues; On the Road with Cliff; Some Racial Observations and Assessments; Walt Disney, a Racist? Who'd've Thunk It?!]