Hah! As if! In spite of the fact that I am an Afro-American male, for some reason or another I have had my share of runs-in with the law, and it has made me come to realize, now more than ever, that the frequent affirmation by many that the United States of America is a free country is idealistic hogwash! It's not free in any sense of the word, and not just for non-whites either, but not for anybody. Hardly anything is free. We have to pay for just about everything in some way or another.
Throughout history it always has been the people in positions of power and influence who establish the laws for their particular jurisdiction, control or personal satisfaction. Many imposed laws are merely arbitrary or at the whim of the person making them. And every law made is not always a just one either. For instance, once upon a time, in this country, it was against the law for any black person to learn how to read and write. Then later it was against the law for blacks and whites to intermingle with each other, which included mere socializing, dating and especially marrying. In certain places we were not allowed to vote or serve on juries for the longest time. There were laws that forbade us from eating, taking a drink of water or sitting where we pleased. So just because something is a law on the books, doesn't mean that it's a fair or valid one.
I find myself challenging stupid laws all the time, especially for things that others may be guilty of, but they don't apply to me personally, although I am expected to abide by them just the same. Then there are certain things that I and many others consider wrong but are not against the law, like the right to bear arms, hunting for sport, gambling and the wasting of our natural resources, like food and water. In the southern states, lynching was not outlawed until the late sixties! Guns, alcohol and tobacco are still legal commodities, but riding in a car without fastening your seat belt is unlawful.
We also have to accept the fact that we don't have many personal freedoms either. And I am not even talking about laws against inflicting harm on other people. We are not allowed to do things that are our own business alone. How is this nation free when there are laws and rules for practically everything? There are warning and forbidden signs all over the place, everywhere you turn. "No smoking." "Walk, don't run." "Do not enter." "Keep off the grass." "No shirt, no shoes, no service." "Suit and tie required." "Please check all bags." "Stand behind the white line." "Turn off your cell phones." "No trespassing." "No loitering." "No panhandling." "No sleeping." "Do not remove this tag!" We certainly are not free always to do as we please. I don't bother anybody, as a rule. I, and others of my kind, have been stopped, scrutinized and harassed for being in a public setting, even on streets, in major U.S. cities, where it was deemed that we should not be there. See my Stereotyping: Racial and Otherwise blog for the scoop.
Some consensual sex is against the law, and I know from personal experience, so is consensual touching. Even touching yourself "down there" is against the law in some places. A 42-year-old laborer from Como, Italy, was fined 200 euros and ordered to pay an additional 1,000 euros in court costs for "ostentatiously touching his genitals through his clothing." It seems that an Italian court has criminalized the centuries-old practice of superstitious males touching their genitals to ward off bad luck, when discussing a tragic event or when a hearse passes by. "Io mi tocco…" (I touch myself), has long been an Italian equivalent to "knock on wood," and is traditionally accompanied by a grope of the utterer's own crotch. But now that tradition "has to be regarded as contrary to public decency, a concept including that nexus of socio-ethical rules requiring everyone to abstain from conduct potentially offensive to collectively held feelings of decorum," according to the Rome court's ruling. Can they stop?!
How do they even get away with such idiotic edicts? Many are wondering how such a ruling might affect American baseball players, rap artists and 3-year-olds, and more seriously, as to how police and the courts are to determine when an innocent adjustment becomes a criminal self-grope. You would think that white men would have better things to do with their time than sitting around thinking of more ways to control everybody. Okay, so I can't touch you, but I'm sorry, I defy anybody to tell me that I can't touch my own crotch or scratch my ass, whether I do it in public or not. We have to draw the line somewhere!
We are even forbidden by law to put certain substances into our own bodies. When he was in office, New York's Mayor Bloomberg proposed a ban on sugar-sweetened beverages that are more than 16 ounces, because he is so concerned about our obesity problem. How is anybody's weight issues or beverage choices any of his business? Why does he even care? Some movie theaters that I used to attend regularly already check patrons' bags to see if they are bringing in food or drink from the outside. So what if we are? What's it to them? You see, they want people to buy the overpriced fare at their refreshment stands, thus taking away our freedom of choice. Maybe I don't want anything the theater is offering and prefer to prepare my own healthier snacks at home. No, you can't do that. "I'm sorry, sir, but you can't bring that bottle of water through airport security. You can buy one inside, however." I suspect that is their plan all along. It's all a corporate racket. You can't travel anywhere you want to. To leave this country and visit another, you need a passport. And then you need a work permit or visa in order to remain there for an extended period of time.
Here is one personal incident of police harassment. I was riding down Broadway through Times Square one day on my bike going home, and a patrol officer pulled me over to give me a ticket for, get this…wearing earphones! I did not pay the ticket. I decided to plead 'Not Guilty' and contest it in court, as I had a few things to say about it. At my subsequent hearing were only the judge, the arresting officer and myself. I forewent a lawyer, because due to prior experience, I figured that I could do a better job in defending myself. I told the judge that I was unaware that I was doing anything wrong, as I have been listening to music while riding my bike ever since I've had one. When she informed me that there was a law, at least on the books, against using headphones while operating a bicycle, this is what I had to say in my defense.
First of all, I wasn't wearing headphones but the kind that fit loosely in my outer ears, allowing me to hear outside sounds. Plus, I never play my music so loudly that it blots out all the sound around me. If I caused some kind of traffic mishap because I couldn't hear anything, then that's something else altogether. If I haven't harmed anybody, then what's the problem? Then, too, at the time he stopped me, that officer couldn't prove that I was actually listening to music. The disc that I was playing earlier could have finished, for all he knew. And I refuse to accept the wearing (or not) of any type of headgear as a traffic violation. But that's all beside the point. That I choose not to wear a helmet is my business also. I have been riding a bicycle for 65 years, and I have never needed one. But if ever I should fall and land on my head, then too bad for me. I'm not going to blame or sue anybody. So how is that your concern?
I then pointed out that motorists listen to their radios, tapes and CD players while they are driving. The same goes for pedestrians. Why is it disallowed for cyclists? It's hypocritical to penalize one mode of transportation and not the others. I suggested that they do something about that so-called law, because not only is it unconstitutional, how are they able to enforce it and why should they? I'm certainly not going to stop doing it. I get around mostly by bike and I have as much right to play music while traveling as people who drive cars do. Their talking on the phone while driving is more of a potential hazard than my listening to music on my bike. That cop, by his own admission, was just trying to fulfill his monthly quota that day. I was just in the wrong place at the wrong time. The judge must have considered my arguments and in all fairness, she fined me only $20 (you know they had to charge me something!) then dismissed the case. Had I just paid the ticket without a fight, it would have cost me $60 or more, so I'm glad that I held out.
While riding my bike through a section of Central Park one day, I was stopped by a patrolling park police officer and told to walk my bike. Bike-riding was allowed only on the main roads and not on any of the pedestrian paths or other park trails, or so she said. I had never heard of such a thing. I and everybody else have always ridden our bikes through there. It's the fastest way to get around and the most efficient way to go. What's the point of walking your bike in the park? I asked the cop, 'Why? What's the problem? How long has this been a policy?' She told me that park robberies have been committed by cyclists as of late. 'Hunh?' I responded quizzically. 'What does that mean exactly, and what does that have to do with me?' I haven't robbed anybody. So just because somebody does that, all we innocent, law-abiding bikers have to be penalized? Just pick on the guilty parties.
That sounds like a bullshit reason to me anyway, that a person will mug somebody in the park only if they have a getaway bike. How about those who mug people on foot? The cops have not outlawed pedestrian traffic in the park as a result. Of course, it could be a racial issue, you know, although I try not to "go there" if there is another plausible explanation. Maybe that cop singled me out simply because most of their previous perpetrators that they have caught might have been black (or maybe not), so I must be like all the rest of them, you see. Let's see them try to enforce such a stupid rule. Central Park is a huge place. They can't be everywhere all the time. Actually, that was the one and only time that has happened. I still ride my bike in the park all the time, and nobody has told me otherwise.
The plaza at Lincoln Center—the area around the fountain and in front of the Metropolitan Opera House—has the imposed policy of No Bike-riding on the premises. I suppose it's to protect the pedestrians from being run into by reckless cyclists. But if I can maneuver the daily, challenging Manhattan traffic and streets without any casualties, I certainly can make it across a sparsely-populated (sometimes it's completely empty), wide-open space such as that without hitting anything. Even so, I could easily run someone over walking my bike as well as riding it, so what difference does it make if I am on the bike or walking beside it? They don't make those employees of Lincoln Center who ride around in those little go-carts or people in their motorized wheelchairs walk their vehicles across the plaza. They are able to run down folks just as well as I could on my bike. That's discriminatory as well as hypocritical.
It's like this ludicrous sign on the front door of my post office branch. "No dogs allowed, except those assisting blind or disabled persons." So, I can't take my dog into the building with me, but my friend here, who is blind, can take his in. What?! If their rules don't apply to everybody regardless, then just get rid of them. "No" declares an ultimatum. If you qualify it with an excepting condition, then it's no longer a definite.
I discovered a few years ago that I am not even free to visit a public park in my own neighborhood. I live on a block in midtown Manhattan that has a school and a small playground/park with swings, monkey bars and a basketball court. One summer when my Parisian boyfriend, Gilles, was visiting me, we were out walking in the 'hood one day and decided to sit in the playground to rest and just to chat. No sooner had we sat down when a uniformed cop approached us and asked us if our children were there with us. Since they weren't, he then asked us to leave the park. This was my first time there, so I had no idea that there was such a policy about who is allowed to patronize the playground. So if I don't have school-age children, there is no reason whatsoever that I would be in the park? Do they actually think that every adult male in the park must be a stalking child molester or else why would he be there? The officer didn't actually say that, but what was his objection of our being there, if not something along those lines? We weren't doing anything wrong or suspicious. All we were doing was sitting on a bench, enjoying the weather and talking. Then, too, just because a man (or woman) is there in the park with a child, should not automatically absolve them from being a potential predator. If you suspect one person, then you should suspect everyone.
I am a responsible adult, and I don't like always being penalized for other people's indiscretions. Why should I have to suffer certain imposed inconveniences just because other people are so careless and inconsiderate? "No food or drinks allowed beyond this point." So just because some clumsy or inconsiderate dolts spill their drinks and leave their food wrappers lying around, we all have to be banned? I am a careful eater and I always clean up after myself, although I am not one to indulge in this particular activity, of eating on-the-run. I reserve my eating to my home or to an actual eating facility. But if spills and discarded trash are their main objection, then why not have the signs read instead, "Please clean up after yourselves, and deposit all trash into the receptacles"? You know, address the specific complaint, instead of to whom it may not apply.
I heard a news report that in a restaurant somewhere an unruly youngster was being disruptive and disturbing the other patrons. So instead of instructing parents to take control of your unruly brats, they put up a sign banning all children under the age of five from the establishment. So those with mannerly, well-behaved, disciplined kids who have been properly taught how to behave in public, aren't allowed to enjoy a nice, family meal together? That's not fair. Just address the specific issue instead of penalizing everybody, most who are not even guilty of the complaint.
That should apply to other situations as well. I don't know why they would even have to tell people certain things. They should know enough to do that on their own. In Celebration, Florida a few years ago (it's a Disney-incorporated residential community near Orlando), I came upon a fountain in the town square which allows residents and tourists to go into. There is a sign at the site which lists the rules for using the fountain. One of them warns, "Do not use the fountain if you are ill with diarrhea." See there? You can't even shit anywhere you want to! I suppose it must have really happened to prompt such an admonition. "I have a severe case of the runs today. I think I'll go into town and take a dump in the fountain!"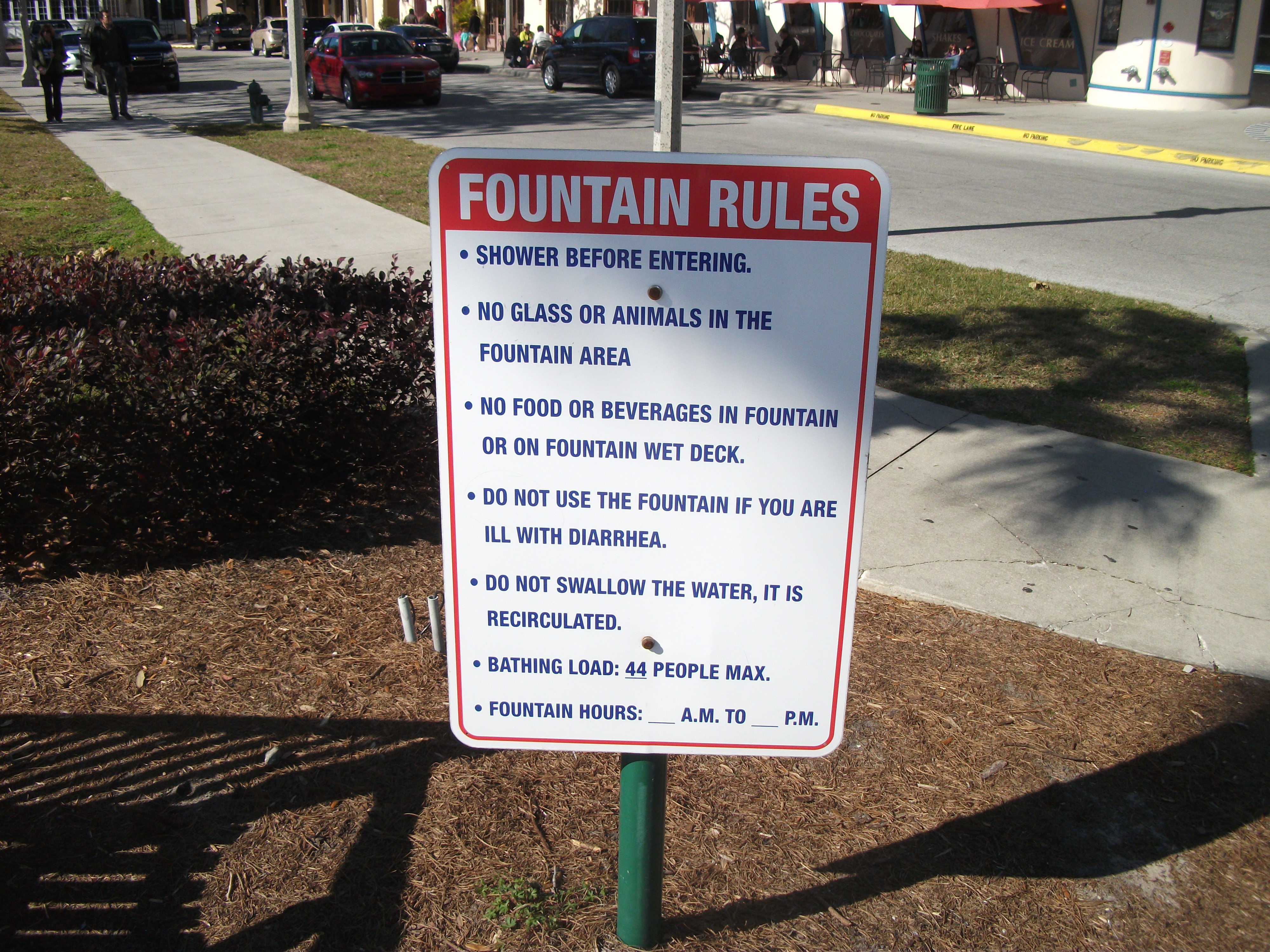 I reckon that the laws against jaywalking are arbitrarily implemented to protect us citizens from ourselves. You see, we don't know how to cross the street without avoiding getting hit, so traffic lights and crosswalks have been set up at corners and intersections to control the traffic and ensure that we traverse thoroughfares safely. Unfortunately for the law enforcers but fortunately for us, with all the pedestrians in Manhattan on a day-to-day basis, there is no practical way to monitor or control all the jaywalking that occurs, so people are left pretty much to their own devices. I say that if we can make it across the street unscathed, then more power to us! And the city cops seem to go along with that. They never intervene when New York pedestrians cross streets in the middle of the block and ignore the "Don't Walk" signals and traffic lights at intersections, relying instead on the traffic itself to guide their maneuvers. That's a more practical approach anyway, in my opinion. If there are no cars approaching, which is a common occurrence, especially on the side streets, and with most of us always in a hurry, why stand there waiting for the light to change? Nobody does that.
It's just like what comic Moms Mabley used to say in one of her routines. She's talking about certain stupid advice that parents give their children. "Go on to school now, Baby. Be careful. Watch the lights." Then, "Damn the lights! Watch the cars! The lights ain't never killed nobody! Many a kid looking at the lights while a cab done knocked his head off!" Moms is not too far wrong either. Cars have been known at times to ignore the traffic signals at intersections where people are crossing. Should we risk being run down by a car plowing through the intersection, with the defense that we were crossing on the green light, therefore in the right? Yeah, you'd be dead right, but what good does that do you?! I have heard of sighted people getting run down by buses. Now how does one get hit by a bus? I blame the bus driver only partly, because the pedestrian could have been out of their sight-line perhaps. But the person that got hit is mostly at fault for not being more observant. I mean, how did they miss seeing something as big as a bus coming right at them? What were they doing or looking at?
As a city cyclist, I find that I have more trouble with pedestrians than I do with vehicular traffic. People will dart out into the street from behind parked cars, and many of them don't look both ways while crossing. Some are looking down or talking on their cell phones. Most of Manhattan thoroughfares have one-way traffic, so I am always amazed when a jaywalker crosses in front of me and is looking in the opposite direction to where the traffic is coming from! Even if they do look in the right direction, it's advisable also to look the other way as well, as they don't know what might be approaching from that side. In that case, when someone gets hit or run down, they can maintain that they were in the right. But that argument is rather moot if they are making it from their hospital bed or the morgue! I was taught growing up to look both ways before and while crossing. I also find myself having to avoid pedestrians walking in the middle of the street, instead of on the sidewalk. They are actually walking in the bike lane, which is designated specifically for us cyclists. I saw a much-pregnant woman jaywalking in heavy traffic one day. I called out to her, 'Hey, watch it, lady! You know you can get knocked down, too!'
By the way, I object to the "Walk/Don't Walk" signals as being biased and not all-inclusive. Everyone who crosses a street is not always on foot. They may be on a bicycle, like me, or a scooter, on rollerblades or skates, or on a skateboard, or even in a wheelchair. Imagine how a person in a wheelchair must feel every time they are confronted with that insensitive "Walk" sign. The city ordinances might consider changing to more appropriate, politically-correct signals, like "Wait" and "Proceed." But that would cost us more money, wouldn't it? Somebody should have thought of that in the first place.
So you see, I am all for the commercial awareness of the physically-challenged. I think that all public buildings should be wheelchair-accessible, as well as sidewalk curbs at street intersections (that's also good for bicycles and other wheeled conveyances) and provisions made for special toilet stalls in restrooms. These are normal concessions made so that everyone can enjoy the same public conveniences, and I do agree with that. But I don't agree with people with certain physical restrictions receiving special treatment or privileges because of their supposed disability.
The biggest indication of this are the specially-designated and restrictive "handicapped" parking spaces at shopping centers and other public parking areas. Most everyone, including able-bodied persons, wants to park as close as they can to where they are going, so why should only the physically-challenged be privy to the best parking spaces? In this instance I believe in first come, first served. If that guy in a wheelchair wants that good spot right next to the entrance at the mall, then he has to beat me to it, just like everybody else. Why should we have to leave the spot empty for some unknown person who may not even show up that whole day when somebody else could be using it? Since I don't drive myself, I am speaking on behalf of those of you who do.
The height of absurdity and unfairness, though, is the parking lot at the nudist beach in Sandy Hook, New Jersey, that a friend and I visited a few times in the past. The parking area is a good quarter mile from the actual beach, accessible only by foot. The first time we went there and while searching for a place to park, I counted no less than twenty (!) designated handicapped parking spaces, all unoccupied. Now I ask you, what were they thinking? Do they actually think that at any one time ever in life, there will be that many (if even one) vehicles with handicapped drivers within, attending a nudist beach?! They might go out there with somebody, but it's unlikely that they would make the trip alone. But my point about the irrationality of such a provision is the fact that everyone has to get to the beach area by the same means. So if a person on crutches or in a wheelchair can successfully maneuver the winding boardwalk and deep sand dunes that lead to the beach, I don't think that parking their car a few feet closer is going to make a whole lot of difference, do you? If they can accomplish that, where they actually park is inconsequential.
I, for one, prefer to use the handicapped toilet stall when I encounter one. It's very roomy and comfortable, and the toilet is built higher than the regular ones, which I like. If a wheel-chaired man comes in while I am in there, although it has never happened, then he has to wait until I'm done, just like everyone else there has to do. If the man in the stall is also like him, he would have to wait anyway, so it shouldn't make any difference whether he is crippled or not.
In Denver, Colorado there is a law that insists that dogcatchers notify dogs of impounding by posting a notice on a tree in the park.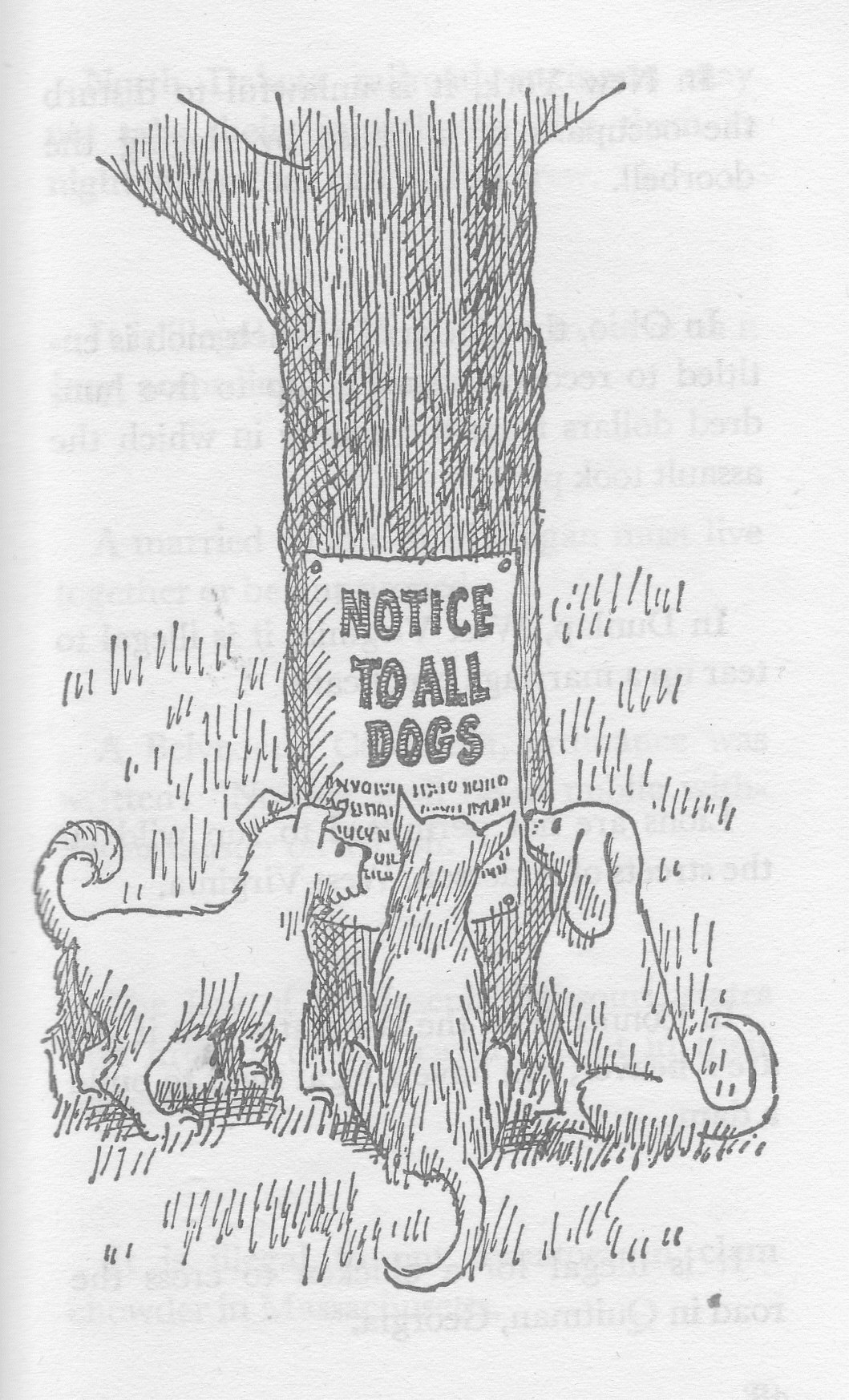 People are always boasting that the United States is the greatest country in the world. Sure, we have certain freedoms and privileges that some other nations don't enjoy. But in order to claim the title of greatest, we have to have it together in all aspects of society and living conditions. While there is still rampant racism, homophobia, sexism, crime, substandard education, no public health program, abject poverty, homelessness, a greatly-flawed judicial system, and certain civil rights that are still denied some of our citizens, we can't rightly be called the greatest, now can we? I don't think that any nation can make that claim at this time, including and especially America. If we are so great, why do we have the largest number of incarcerations than any nation of the world? A great country's citizens should be able to get along and accept each other's differences, points-of-view and faults. There would be no instances of terrorism, undue aggression, bullying, mistrust, intolerance or animosity toward their fellow humans. Our artistic creativity would not be subject to arbitrary censorship, someone deciding what is appropriate, or not, for our eyes and ears to witness. Our courts and even private citizens are still telling women that they have no say-so in whether they bear an unwanted child or not, which should be their own decision alone. We only recently got the right to marry whom we choose to, which also should be nobody's business but the individuals involved.
I don't think that it's unpatriotic of me, either, to make such a statement. As always, I just call it as I see it! Just so I am not deemed a person who does not love his country, I assure you that I do. It's just that I can recognize that it is not perfect but has its faults and flaws and foibles (oh, my!). I criticize the things I care about, hoping only to make them better. In some of my other articles I criticize movies and television, too, but I wouldn't give them up for anything.