When I heard about a man who made a hobby of collecting feces specimens (from men of various nationalities, no less, which he kept in labeled jars!), I decided that there must not be a single object in the world that somebody somewhere does not collect. If they will collect shit, they'll collect anything! You know what I'm saying?
I expect that every type of animal, object, gadget and doodad figures into somebody's collection. Lisa Whelchel hosts a cable series entitled, "Collector's Call," which features fanatic collectors around the country showing off their prized possessions. She has visited individuals who have amassed vast collections of guitars, movie posters, video games, and memorabilia involving Batman, The Wizard of Oz, "The Twilight Zone", Winnie the Pooh, KISS, Elvis Presley and Elton John, for example. What follows is a random sampling of some of your more unusual collectibles I have come across. For ongoing collections and being that it's been some years since I first reported these findings, you should expect the amount of cited items to be many more now than what is mentioned here.
There is a restaurant in Austin, Texas, whose ceiling is covered with hubcaps. I heard of a man who has decorated his entire house with matchsticks, over a million of them, and another man who makes all his home furnishings out of animal bones! There is a U.S. postal worker who has tattooed his body with 1,800 Disney cartoon characters! There is a woman who has over 4,000 Pez dispensers. One contestant on "Jeopardy!" boasted of possessing every issue of TV Guide ever published. Think about that.
One well-traveled woman keeps sand samples, in individual labeled containers, from every place she's been to that has a beach. Still another well-traveled game show contestant admitted that he owns over 300 barf bags from all the different airlines that he has flown on. The mother of one contestant has a collection of every variety of Campbell's Soup ever produced, each still unopened and in the can, one woman claims to have 1000 sets of salt and pepper shakers, while another contestant's family is a collector of hundreds of bedpans and urinals!
An eleven-year-old (when I first wrote this), Kyle Krichmann has been collecting different kinds of vacuum cleaners since he was 4 and had about 125 (at the time), and a 10-year-old girl who keeps various species specimens of live tarantulas as pets!
Now although a cat is not an unusual pet to have, the number of said animals would be considered obsessive. A woman guest on "Dr. Phil" was revealed to be in possession of 200 cats which she housed in her home and on her property. But she has been topped by a contestant on the newly-revived "To Tell the Truth," who boasted of owning 1000 cats!
In an attempt to make his country safe, he explains, a Cambodian man seeks out still-active land mines, digs them up, diffuses them then adds them to his home collection of over 5,000. One Virginian man, "a collector of the McDonald's eating experience," claims to have eaten in 10,893 McDonald's restaurants in North America alone. It would be more by now, if he is alive and still doing it. I wonder how his health is?
Comic juggler Andy Martello collects recordings of the '60s song "Louie, Louie," and apparently, there are a whole lot of them. He already has 150 (at least) and counting. Jay Leno is a collector of cars, trucks and motorcycles. He owns some 180 motor vehicles which he keeps housed in hangars at the Burbank Airport and are tended by three full-time mechanics. Actor Corbin Bernsen has a collection of over 6500 snow globes. I have heard of certain museums that display people's personal collections—toilet seat covers and burnt food (!), to name only two.
The ancient Egyptian King Menephta, after defeating the Libyans in 1300 B.C., returned to Karnak with a collection of 13,240 penises taken from his adversaries, as a token of his conquest! What he did with them then and whether he displayed them in some way, I have no idea. Are you convinced now as well about my omni-collection claim?
I maintain a few relatively-normal collections myself and, I can admit, some maybe not so normal. My largest accumulation of like items is my record collection. I have been buying and acquiring records since the late '50s, and now with the advent of compact discs (commercial as well as homemade), I have well over 5000 LPs, 45s, CDs and cassette tapes. I have not done an inventory count in a while now, however. My taste in music is as eclectic and varied as everything else in my life. I won't give you an itemized breakdown of my various music acquisitions at this time, but suffice it to say that I own virtually every type of musical genre, even modern rap and hip-hop, which I basically loathe.
I will tell you that one of my regular record projects in the past was Christmas albums, and the one song that I have the most recordings of is "Silent Night," with no less than 142 renditions! Another one is "Jingle Bells" with 141 renditions. I am on a mission to acquire everything recorded by Burt Bacharach, the Beatles, Elton John, Barbra Streisand, Dionne Warwick, and John Williams (the composer). Most of those are nearly complete, I am pleased to report.
For the last few years I have been converting many of my records to mp3 format to store on my computer. I have an external drive which serves as a virtual jukebox. As a result, I don't buy records anymore but rather now collect individual songs, which are filed in organized directories on the drive.
I have a fun hobby of compiling thematic music sets for my listening pleasure, mostly. Since I have such a vast record library from which to cull, the eclecticism of the song subjects is part of the appeal for me. A random sampling: I have song compilations about America (there are hundreds), titular songs about "mother," "father," "children", "boy," "girl," "baby" and "blue(s)," lullabies, ballads and story songs, fanfares, marches, tangos, cities and states songs, NYC streets songs (inc. "Broadway") and other thoroughfares, songs that have a day of the week in the title, a month in the title and a season in the title, songs about birds, canines, footwear and money, songs about Joseph, Susan, Santa Claus, Halloween Spooks and the Devil, songs that deal with firearms, food and drink, house and home. I have a large "Songs 'of Love'" set, which has the phrase "of Love" somewhere in the title. There are hundreds of candidates of those as well.
One ambitious project is Songs of the Zodiac, which is made up of songs about rams, bulls, twins, crabs, lions, virgins, scales (or balances), scorpions, archers, goats, water[bearers] and fish. And yes, there are songs for each and every sign. A number of those songs have proved useful for my Return of the Zodiac Killer story. If I don't have a certain song that I want for one of my theme sets, I search for it, be it YouTube, the library or some other source. I have many books and printed music, too, with an emphasis on reference books and especially dictionaries of all kinds. My favorite collectible authors are Dan Brown, Stephen King and Armistead Maupin.
Now for the rather unusual, if my previous admissions don't qualify. I pick up every business/calling/name card that I come across. I have over 3,000 at last count. They are all alphabetically arranged on display in an album. I am also an avid list maker. I compile filmographies and discographies of various actors and recording artists, for example. I have separate lists of every movie, play, TV show and video that have the words "black," "green" or "kid" in the title. I have lists of movies that feature parade scenes, dentists, train wrecks, "bitchfights," Frankenstein and Godzilla, movies in which someone dances the tango, a list of Agatha Christie and Stephen King film adaptations, celebrities who were born in New Jersey and actors who have portrayed Tarzan and Ebenezer Scrooge.
I keep a list of "punonyms," which are parodied names of celebrities. Examples: Warren Beauty, Truewoman Capote, Jes' Enormous, Linda Hrunt, Disgrace Jones, Ursula Undress, Sofia Vulgara. Some of my other lexical collections consists of palindromes, anagrams, oxymora and thousands of trivia questions, from when I used to host a weekly online trivia game. I still collect bits of trivia on the slim chance that I might some day get a job writing questions for "Jeopardy!" or some other quiz game show. I have drinks that begin with the letter "C", "Bowl" stadiums, wacky song and book titles. Being a truly zealous logophile (a lover of words), I collect hippopotomonstrosesquipedalians, very long words of 20 letters or more (speaking of which, for example).
I also collect Virgo birthdays. I keep a written, alphabetical list (per date) of everyone I encounter who was born between August 22 to September 23, and incidentally, I have more entries for my own birthday, September 5, than any other date. If you are a Virgo and you give me your name, the day you were born (the year is optional), I will add you to my list.
Since my college years I have retained some souvenir of virtually all of my performances: programs, flyers, press clippings, reviews, fan mail, etc., and these are arranged chronologically in 24 scrapbooks. Twelve of these books are reserved for The Flirtations. For the five-and-a-half years I was with them, I appointed myself the group's archivist, saving virtually everything on which our name appears. I started one with the New York Vagabonds as well. In addition to many pictures of myself (well, I didn't take them!), my family, friends and acquaintances, I maintain two volumes of celebrity pics, alone and in groups. I save the Playbills and programs for every stage show that I attend. To date, I have seen 256 stage productions during the time I have lived in NYC.
Since I have traveled so extensively, I would never be able to keep track of where I have been in the world if I didn't write it all down. Therefore, I have a written account of every place that I have ever been, an alphabetical list of cities arranged by state, province, island and country, as well as a list of every institution of higher learning I have visited. With that, I have a record of every plane flight I have ever taken, all 526 of them! In addition, as souvenir reminders of where I have been, I have a massive collection of snapshots and picture postcards, which are assembled in 12 more multi-paged photo albums. And since I've gone digital, I also have an increasing collection of photos stored on my computer. All pictures are arranged thematically, grouped with similar images.
Some sample subjects include architecture, with special emphasis on state capitols (I have 37 so far) and other buildings with domes, churches, arches, famous landmarks, skyscrapers and towers, including water towers (more on that in a moment), monuments, windmills, lighthouses, places I've played and places I've stayed; sculpture (a particular favorite art form of mine), life form art, including statues of Liberty, George Washington, Abraham Lincoln, Christopher Columbus, composers, religious icons, animals, people on horseback and winged figures; modern art, including red sculpture, works by Henry Moore, bells, unusual clocks and totems; nature scenes: mountains, unusual or strange rock formations, fountains, waterfalls, dams and bridges (I am particularly fond of covered bridges).
I snap amusing signs and pictures of anything that has my name on it: stores and businesses, buildings, vehicles, street signs, whatever. So, I'm self-indulgent! I actually have my own intersection in the Bronx, where Clifford Place crosses Townsend Avenue. 5 being my favorite number, I have pictures of things on which the number 5 appears, including a framed reproduction on my wall of Charles Demuth's The Figure Five in Gold, which I love.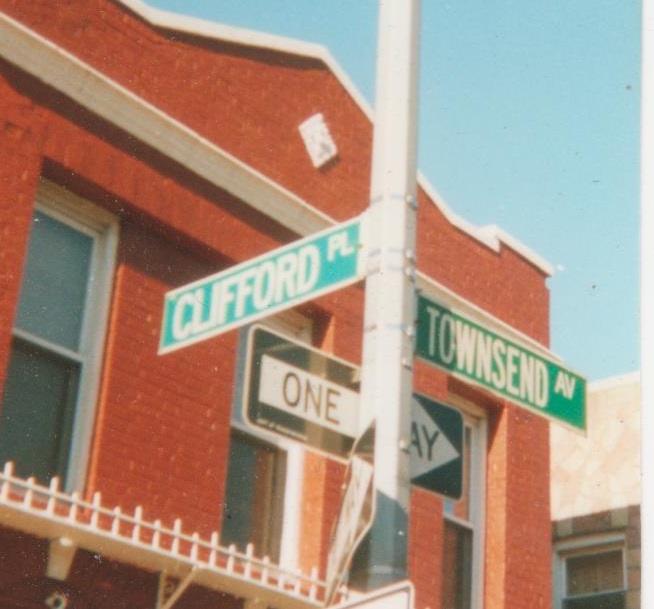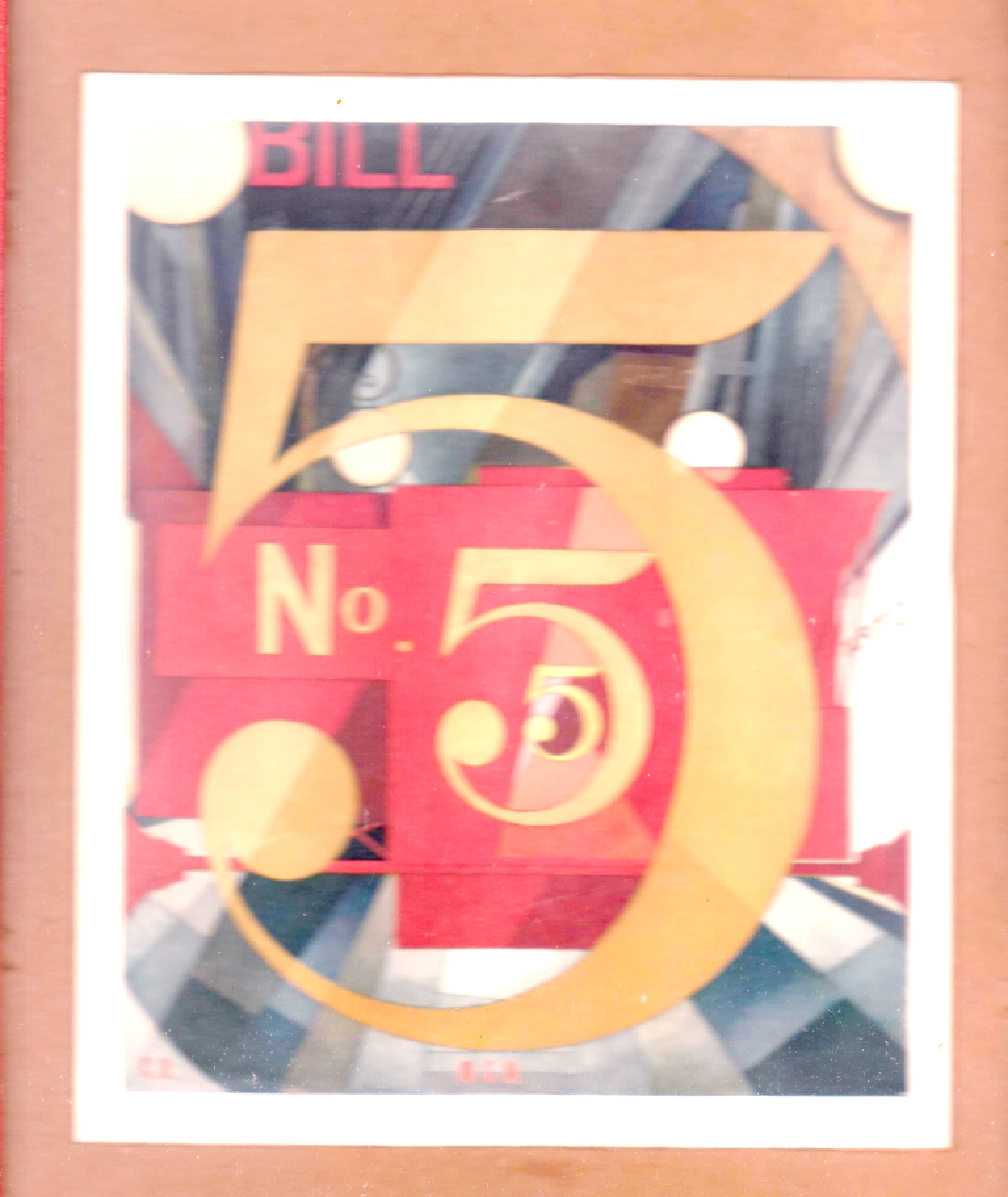 When I used to do my cross-country concert tours with various vocal groups, I got into the weird, photographic diversion of "chasing" water towers. What I mean is, I started a photo collection of interesting, colorful and/or unusual water towers that I encountered on the road. So when I spied one, I had to get close enough to it to get a good picture, as most of them have the name of the town painted on them for identification. Since I didn't have a car on tour, this sometimes required me to walk clear across town from where I was lodging. Some towns have more than one. In fact, I think I reached my saturation point in Scottsbluff, Nebraska, which has no less than eight water towers spread out all over town. When I had finished that little misadventure, which took most of the day and exhausted me physically, I came to realize the folly of such an activity. Why am I doing this?! I asked myself. Still, I have a total of over 100 water towers in my photo collection! Hmm, I suppose this would qualify as an unusual collectible item? You think?