What follows is a discussion of the traditional Nativity story that we all are familiar with and that many seem to accept as truth and historical fact.
In my opinion, the circumstances of Jesus' birth, as well as his conception, are highly suspect, to say the least. First of all, there is no proof that Mother Mary was a virgin. The passage from Isaiah (7:14), on which this assumption is based, reads, "Behold, a virgin shall conceive and bear a son…" The original Hebrew text, however, never said so. The word which the New Testament renders as "virgin" is almah, which means "a young woman of marriageable age." The Hebrew term for a virgin is betullah. The two words don't exactly mean the same thing, do they? When the Greeks translated the Bible, they erroneously translated the Hebrew "young woman" as "virgin," and it is this mistake that the Gospel adopted.
I would think that people would be wary of translations, especially the Bible, which has undergone so many. Moreover, Isaiah did not mention any names or dates, so who's to say that this Mary person is to whom he was referring? That's making an unwarranted presumption right there. No doubt there were many young women of marriageable age who had baby boys at some point, but we don't know if Mary was one of them or even when it occurred. Isaiah's verse goes on to say that the "virgin" shall name her son "Emmanuel." Mary named her child Jesus, so they might not be the same kid. It might be Emmanuel Lewis to which he was referring, or he might have been reporting on some girl who lived in his village and at the present time, for all we know. A virgin conceiving is nothing special or unusual. Everyone is a virgin before they have sex for the first time. Virgin brides often get pregnant on their wedding night. Even if this unnamed girl was a virgin when she conceived a child, that doesn't follow that she remained so during her pregnancy and childbirth. People tend to read too much into things.
According to the Biblical account, Mary was already going with Joseph when she became pregnant. How do we know for sure that the baby was not his, or perhaps some other local suitor's? Furthermore, some scholars report that Mary and Joseph had several other children after Jesus, so how has Mary managed to maintain her virginal status even until now, according to the Christian religions? Those other children weren't all divinely conceived (either). Actually, the Catholics vehemently negate the sibling theory so that they can continue to regard Mary as The Perpetual, Sexless Virgin.
While I'm at it, I should explain the Roman Catholic doctrine of Immaculate Conception, for those who don't know what it is. The claim of "immaculate conception" has nothing to do with the physical birth of either Jesus or Mary. Mary, all authorities agree, was born in the usual, natural way. But as the future mother of Jesus, she differed in one significant aspect, that of "original sin." Ever since Adam's disregard of God's command not to eat of the Forbidden Fruit, everyone, until the coming of Christ, was born with sin in their soul, except for Mary. Her soul, at the moment of its creation and infusion into her body, "was clothed in sanctifying grace." The stain of original sin was excluded from her so that she would be worthy to give birth to the Savior. But how would anybody know that before the fact, as if it were pre-ordained? This is what is meant by her immaculate conception. So you see, Mary's supposed immaculacy, as well as her virginal status at the time she conceived Jesus, are arbitrary, manmade conventions, not based on any real proof or truth.
I am wondering, too, if "God" wanted a son so badly, why didn't He just create one already full-grown, like He did Adam? Why bother with the whole gestation and birth thing. A baby serves no useful purpose until it's old enough to be able to work and do something. If Jesus was destined to die the way he did, they could have just cut right to the chase and foregone all that preliminary stuff. That's another reason why I suspect that Jesus' conception and Mary's part in the proceedings were all very natural.
And what about this? Has it ever occurred to you that if Mary was a virgin, and as Joseph probably didn't know how to perform a Caesarian section, her hymen would have to have been broken from the inside in order to give birth. Then that would mean that it was Jesus himself who busted his own mother's cherry! Ouch!
(# …Where was he born? / Born in a manger… #)
There is nothing in the Bible to justify the popular belief that Jesus was actually born in a manger. I'll bet you that most people don't even know what a manger is. The word, meaning "to eat," in French, is a feeding trough or box for barnyard animals. Now, why would someone, under any circumstances, get into an animal's feed trough to give birth? Mary might have placed her baby in there afterwards, however, as one of the versions of the Scripture suggests. It's just another interpretation, but I don't think that "she laid him in a manger" means that she laid him like a bird lays an egg or that she had sex with him.
Pictures representing the Wise Men worshiping Jesus in a stable surrounded by cattle and horses are not based on Scripture either. Nowhere does the Bible mention a stable in this context. Some scholars have suggested that the manger in which Mary was said to have laid her child was in the courtyard of an inn or caravansary, and others suppose that it was a grotto or cave near Bethlehem.
Twelve days after Christmas, referred to as the Epiphany, is the day that commemorates the arrival of the Three Kings from the East to pay homage to the Christ Child. Now whether it took just 12 days or much longer for them to get there, it seems a bit far-fetched that Mary and Joseph would still be in the same place. They only stopped there for the night so that she could have her baby. I don't imagine that they took up indefinite lodging in the place. I would think that they would already be long gone by the time the Kings, Amahl and all those shepherds and other folks allegedly got there. "Uh, Joseph, dear, we can't leave just yet. We're expecting a lot of visitors." "When, Mary?" "I don't know for sure. One day soon, I guess. Besides, look, we have all the comforts of home right here."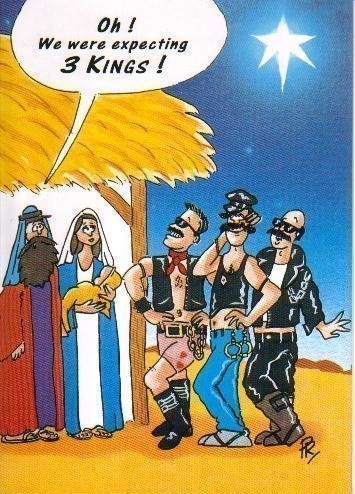 It's said that the couple were on their way to Bethlehem to be registered, but they must not had made it there yet. So, was Jesus really born in Bethlehem or somewhere else entirely? And where had they planned on staying when they did get to Bethlehem? Their mission probably took more than one day to accomplish. But if that was Bethlehem where they encountered the fully-occupied inn, had they neglected to call ahead to make reservations?
And what about those "gifts" that the Kings presented to Jesus? Now what is a little newborn baby supposed to do with gold, frankincense and myrrh, which were all symbolic in some way? The child neither understands the symbolism nor cares. He needs food and diapers. How practical is that other stuff?
You see, I am one who questions everything, instead of accepting it on face value. If it doesn't make logical sense, I will comment on it. For example, how did all those people—shepherds, Magi and whoever else—find out where Mary and Joseph were holed up? They couldn't have sent out a press release. The new parents didn't even know where they were going to be. They ended up in that place only on a whim and as a last resort. Now the story goes, according to St. Luke, and let's face it, it is just a story, a fairy tale, if you will, but instead of actual fairies, we have angels to play a part, okay?
Once upon a time, in a land far, far away, a Fairy Godmother, I mean, an Angel from God, appeared to some really freaked-out shepherds and announced that a Divine Baby Boy had just been born in their midst, and insisted that they go worship Him. "…And this shall be a sign unto you. Ye shall find the Babe wrapped in swaddling clothes, lying in a manger." (Long pause) "That's it? That's all we get? And why are you telling us anyway? We ain't nobody! What are we supposed to do with this information? We're simple shepherds, not bloody detectives! Now let me get this straight. So, you expect us to drop what we are doing, just leave our flocks unattended and go look for some damn baby who knows where, to do what, worship it? And this is on the word of…who did you say you were again? An Angel from God? Right! Thank you, no. I don't think so. Homie don't play that!"
But for those who did take up this alleged quest, how in the world did they find Him? He undoubtedly was not the only baby born during that same time. (This idea was explored and spoofed in Monty Python's Life of Brian [1979]). And certainly there were more than one manger throughout the land. Did they do a farm-to-farm search until they found the right one? There was no kind of media communication in those days, no tracking devices, no GPS, nothing. And again, why would the family still be in the same place by the time the others got there, who knows when? Do you get my point about the implausible silliness of the whole thing?
The Planetarium in New York City gave a very interesting presentation one year. It must have been around Christmastime, because the show was a speculative explanation about the circumstances of Jesus' birth. That very bright "Star-in-the-East" which supposedly guided everybody to the Christ Child, was the result of the alignment of several planets, a celestial phenomenon that occurs only once every few thousand years. Others contend that it was the periodical appearance of Halley's Comet. Some people at the time may have wanted to associate such an unusual occurrence with a very special manifestation or birth. But even so, who is to say that Jesus was that special birth? It is all conjecture.
And then it's said that the Wise Men "followed the Star," which led them to the Christ Child. Now, how do you follow a star? Can you follow the sun or moon? Was this particular star moving all around and had a big, flashing arrow on it pointing, "This Way to the Kid"? Or as one version of the scripture says, "The Star came and stood over the place where the young child lay." Come on, how can the exact location of anything on earth be physically determined, based on where a star is in the sky? And then, too, they are giving intelligent conscience to a star! How did this star know where the baby was or who he was, or cared?!
With what we know now and our sophistication of worldly matters, if anybody reported these events today, who would believe it? It was all illogical, supernatural nonsense even at that time. Just because it's in the Bible does not make it true. Read my blog, For the Bible Tells Me So, where I debunk other stories and commonly-accepted accounts of historic happenings therein.
(# What month was Jesus born in? [Well, it wasn't…] The last month of the year… #)
(# Long time ago in Bethlehem, so the Holy Bible say, Mary's Boy Child, Jesus Christ, was born on Christmas Day… #)
What is that, the Gospel According to Jester Hairston? Nowhere, other than in certain songs, does it say that Jesus was born on December 25, Christmas Day. That is not the case at all. There was no such thing as Christmas until a couple of centuries after the fact. It's merely a man-established commemoration date, just like Columbus Day is. Not only that, one must consider the calendar that we now go by. During Roman times, for instance, according to them the year consisted of only ten months, began in March and equaled only 304 days. The other 61 days were merely an unspecified winter period. When the Julian Calendar was established, and subsequently, the Gregorian Calendar, it gave this winter period the names January and February and added July and August in the middle to honor the Caesars, making the year now twelve months (365 or 366 days) long. Didn't you ever wonder why September through December are the ninth through twelfth months when their names suggest the seventh through tenth months?
That planet conjunction is said to have occurred in late February or early March. Others speculate that Jesus may have been born in August or September, based on the account that there were shepherds tending their flocks on the night in question. You see, they did this only during the blistering days of late summer when it is too hot for the sheep to graze in the daylight hours. So, considering all these facts, who can say for sure when Jesus was actually born? Unless one is an astrology fanatic, why should it even matter?
But Christmas occurring in the last week of December, and specifically the 25th, is no accident, but an arbitrary decision. The early days of Christianity (about 300 years) were met with much persecution, by the Romans, mainly. They used to feed Christians to the lions as public entertainment. So people didn't go around announcing that they were Christians. They tried to keep it pretty much on the down-low. So, starting around 212 A.D., by holding Jesus' Feast Day during the same season as the Winter Solstice, Saturnalia, Sacaea and some other established religious ceremonies, like Chanukah, Sol Invictus and the Mithraic Festival, the Christians could celebrate right along with everybody else without drawing special attention to themselves. That date works out well for the Catholics, especially, because seven days later is New Year's Day, which symbolizes for them a new beginning and a new Covenant and all that.
So you see, the practice of changing and moving people's birthdays around for convenience's sake is not a new thing. Even the Sabbath for Christians, Sunday, is a result of an arbitrary change from the Jewish Sabbath of Saturday to the pagan's weekly veneration day of the sun, hence the name. Incidentally, it is purported that the pre-Christian Persian God Mithra—called "the Son of God" and "the Light of the World"—was born on December 25, died, was buried in a rock tomb, and then resurrected in three days. Sound familiar?
Dec. 25 is also the birthday of Adonis, Dionysus and Osiris, and the newborn Krishna was presented with gold, frankincense and myrrh. In fact, no aspect of Christianity is original. Everything about it is based on prior religious conventions, practices and symbolism, which makes me even more convinced that the whole Nativity Story, as we know it, is merely an adaptation. The 1965 Biblical epic The Greatest Story Ever Told in other words could be called, "The Biggest Fabrication Ever Related." I don't mean to make fun of anybody's faith (well, maybe I do), but this is just another way to look at it and something to think about.
[Related articles: A Critique of Catholicism; For the Bible Tells Me So; Heaven and Hell; Jesus H. Christ!; Oh, God, You Devil!; Sin and Forgiveness; The Ten Commandments]